| | |
| --- | --- |
| Pictures | |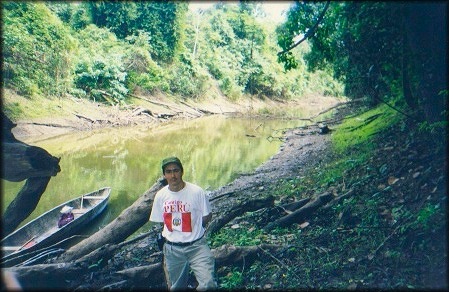 "In the Amazon Jungle"


Date: August 1997
Place: Yarapa River, a tributary of Amazon River, Peru
Camera: 35mm

Thanks to Carlos Manuel Reus for this one!
This picture was shot in the Amazon Rainforest in Peru in the Yarapa River, a tributary of the Amazon River. At the time I was staying at the Pink Amazin River Dolphin Lodge, which is run by Lady Roxanne Kramer, from California; an enviromentalist, whose goal is to save the endangered Pink Amazon River Dolphin, as well as other species, and also help the natives in their daily struggle for a better living, against illegal poachers and illegal fishermen, who are destroying their habitat, and means of subsistence.
This place is beautiful, there are caymans, piranhas, monkeys, many wildlife and of course mosquitoes!
Please remember, SAVE THE RAIN FOREST
.

Back to Pictures Index
Click here to go back to top of this page.

---
Home
• Hiking • Gear Reviews • Shopping • Pictures • Links • Feedback


TERMS OF USE
Copyright © 1998-2003 • MAL • All rights reserved
Last updated: 19 October 2003