| | |
| --- | --- |
| Pictures | |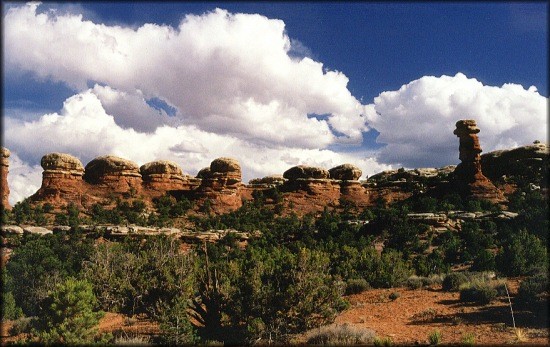 "Red Rocks and Clouds"


Date: 22 June 2000
Place: Canyonlands National Park, Utah, Needles District
Camera: Canon AE1, 50mm Lens w/Polarizer, 100asa film

Thanks to Steve Dempsey for this one!
The Canyonlands make you want to use alot of film but every time I raised the camera to my eye,
I was only able to photograph a small portion of what I saw.
Next time I'm there I'll take a wide angle lens.
(I know that a Cannon AE1 is not a very good choice for light weight
backpacking but I did leave my power winder in the car)

Back to Pictures Index
Click here to go back to top of this page.

---
Home
• Hiking • Gear Reviews • Shopping • Pictures • Links • Feedback


TERMS OF USE
Copyright © 1998-2003 • MAL • All rights reserved
Last updated: 19 October 2003